Des Moines Metro Area Lending Map
To find out if your current home or a home you are considering for purchase is included in one of our lending areas, AFTER reviewing the description of each of our areas below, please enter the street address in the boxes under HOME LOCATOR.
NOTE: Please review the descriptions of each of our lending areas as each lending area has a different set of guidelines as well as offering a different set of loan options. Click here to see lending area descriptions.
View a printable version of our current lending map here
Click Here for information on NFC and Invest DSM Programs working together if the home is in a Special Investment District (SID). These are the neighborhoods in green with the dark green outline.
Enter the address below


HOME LOCATOR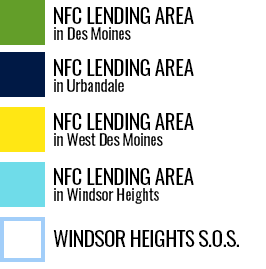 Click the boxes above for more information on the lending areas.